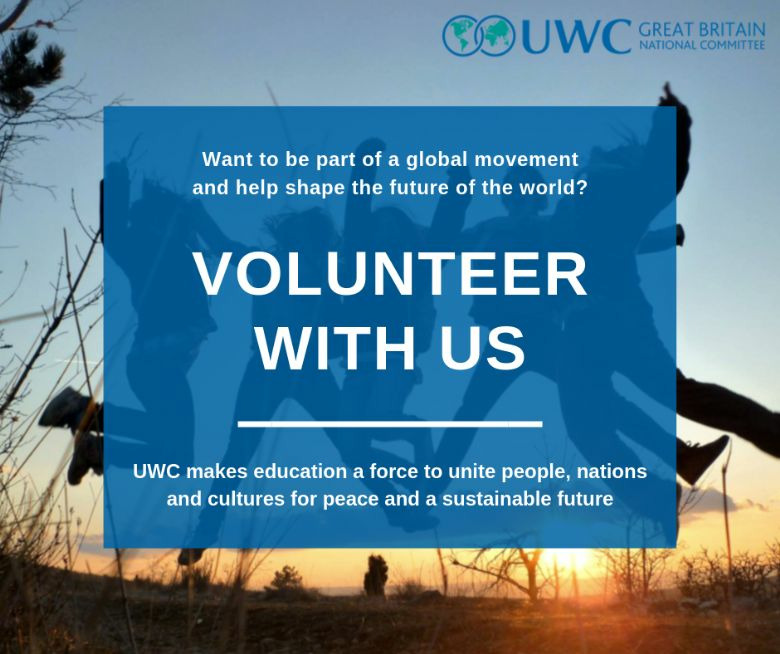 Volunteering with UWC Great Britain can be a brilliant experience. We want you to share in, and help shape, the direction of our National Committee and to help nourish our movement and extend the resources of UWC GB.

UWC Great Britain relies on the passion and commitment of volunteers. Our volunteers come from all walks of life and bring with them experience, charisma and an eagerness to support the diverse and important work of our National Committee.
We want to work with you to find an opportunity that fits your needs, challenges and strengths to establish a beneficial and fulfilling relationship for both you and UWC Great Britain and in doing so, help us achieve our mission to make education a force to unite people, nations and cultures for peace and a sustainable future.
Whether you are a UWC alumni looking to give back to the UWC movement, a like-minded human with a desire to contribute to the UWC mission, or a recent graduate looking to gain some valuable work experience, there are plenty of ways for you to get involved as a volunteer with us!
Learn about the how you can volunteer with UWC GB:
Casual / Event Only Volunteer
Volunteer with UWC GB for a short limited time, usually as part of a specific task or annual event (for example: Selections assessor, Open Day helper, Community Conversationalist, Orientation volunteer, Guest speaker)
Advising / Consulting Only Volunteer
Support UWC GB with your experience. Help us in an advisory capacity to work towards the completion of our strategy goals (for example: Fundraising Advisory Group, Selections Process Advisory Volunteer, forum/webinar/event host/speaker)
Regular / Ongoing Volunteer

Volunteer with UWC year-round. Work as a core member of one of our taskforces, meeting regularly with others to deliver our mission and set the direction of the organisation (for example: Core Taskforce volunteer, Coordinator, Project manager, Organisation development volunteer )
Trustee Volunteer
Become a Trustee with the UWC National Committee of GB. Take a leading role in driving our organisation forward and delivering our mission. Join our monthly committee meetings and be an active taskforce volunteer. Ensure the safeguarding of UWC GB by fulfilling your duties under the law as a charity trustee and company director.
Learn about the different areas of UWC GB you can volunteer with:
Promotions
Raising the profile of UWC GB and the UWC movement throughout Great Britain and maximising opportunities for all young people to take part in a UWC experience
Selections
Selecting the best possible students from those applying through UWC GB to attend UWC schools around the world
Health & Wellbeing
Providing support and advice to students and their families affiliated with UWC GB, from initial contact with the National Committee through to their nomination and attendance at UWC schools
Community Engagement & Fundraising
Nurturing an enduring commitment to UWC GB and the UWC values amongst the UWC community in Great Britain and raising funds to support the effective running of UWC GB and scholarship funds for students selected by UWCGB
Governance
Providing and reviewing recommendations on changes to the structural organisation of UWC GB and supporting the delivery of UWC GB's corporate and charity obligations under the law
Strategy
Drafting, monitoring and reviewing UWC GB's strategy
Volunteer Coordination
Facilitating the involvement of volunteers with UWC GB and supporting a positive and mutually beneficial experience for all
Finance
Maintaining and reporting the financial records of UWC GB in compliance under the law and supporting with the means-testing of applicants to UWC GB and the allocation of funds to UWC GB practices and activities
Justice, Equity, Diversity & Inclusion
Providing support and guidance on ensuring UWC GB promotes values of justice, equity, diversity and inclusivity in its practices and activities and establishing an inclusive culture free from all discrimination and based upon values of dignity, courtesy and mutual respect
Safeguarding
Facilitating the safeguarding training of UWC GB volunteers, supporting a safe and protected environment for all and ensuring UWC GB's safeguarding compliance under the law
Other areas of UWC GB to volunteer with include:
IT & Data Protection, Data analysis, Legal, Compliance, Internal Communications & Public Relations and Sustainability